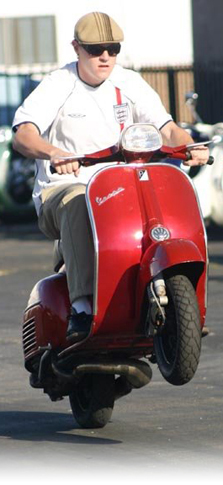 FRIDAY, AUGUST 26th:

---
7PM: Meet at the PALOS VERDES BOWL (lounge), 24600 Crenshaw Blvd., Torrance, CA 90505, (310) 326-5120. Rally packs will be available here, but not at the end of the ride.

8PM: Night Ride leaves for Palos Verdes and the Beach Cities, before returning to the Palos Verdes Bowl.
SATURDAY, JULY 27th:

---
11AM: Meet at the Gen Korean BBQ House restaurant in Torrance (corner of Crenshaw & Lomita Blvds). MAPS will be given out before the ride, so be sure to get one. PLEASE GAS UP BEFORE THE RIDE, as we will NOT be stopping for gas on the route.

12noon: Ride leaves for the original, and often-copied, SOUTH BAY SWERVE 'N' CURVE ROUTE through Palos Verdes.

After doing the beautiful Swerve N Curve route, we will be ending the ride at Strand Brewing Company, 2201 Dominguez St., Torrance CA 90501.
There will also be a 50/50 RAFFLE and a SCOOTER SHOW, with awards for Best Vintage & Best Modern Scooters given out after the judging.
FOOD AND DRINKS AT THE PARTY:
Strand Brewing has great beers/drinks for everyone, and Del's Fish Taco Truck will be there to make your belly happy.

Should be a Swerve N Curve Party for the history books, so don't miss it!